Escape with World Cup 2006 Packages at Banyan Tree
---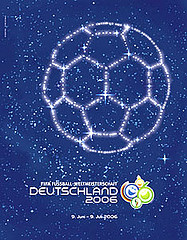 So you missed your chance to get tickets to this year's matches in Germany, not to mention the impossible task of booking a hotel room in any of the hosting cities. But you-- a diehard and devoted football fan-- are not about to miss the games on telly. Enter Banyan Tree, with their creative packages designed for fans who want to watch the games in peace (tranquil surroundings with nary a beer-guzzling heckler in sight!) and their partners/spouses who may have escaped infection with that football fevered frenzy. For a limited period from June 1 to July 31, Banyan Tree is offering exclusive World Cup 2006 Escape packages at its resorts worldwide. All packages are inclusive of daily bountiful breakfasts and a surprise gift from Banyan Tree Gallery.
At Banyan Tree Bangkok, the World Cup 2006 Escape package rates begin from US$270 per night for a Deluxe View Suite (minimum two-night stay). The package includes a Banyan Tree Spa Back Reviver session per person as well as a Shopping Companion Service for hunting out the city's treasures.
At Banyan Tree Bintan, package rates start at US$465 in the Valley Villa (minimum two nights stay). All guests taking this package will receive a choice of a two-hour Renewal or Rejuvenation spa session, as well as a welcome drink and fruit platter on arrival.
At Banyan Tree Maldives Vabbinfaru, guests can enjoy the World Cup Escape Package with rates starting from US$680 per night for an Oceanview Villa. This package includes daily breakfast and dinner, a choice of a two-hour Renewal or Rejuvenation spa session, and an unforgettable private sunset sail on a catamaran, complete with a guide.
At Banyan Tree Phuket, the package is priced from US$495 per night in a Deluxe Villa, with a minimum stay of three nights; includes a body massage per person, an intimate High Tea session for two, and cooking lessons with lunch for two.
Lastly, at Banyan Tree Seychelles, the World Cup Escape package rates start from EUR 855 per night (four night minimum), including a Renewal or Rejuvenation Spa session for two, as well as a one-day tour of Mahe with a beach picnic lunch included.
---

Related Hotels