Eos: The Luxury Airline that's like a Five-Star Hotel
---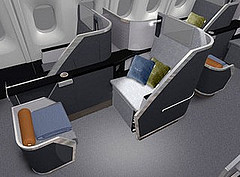 Our adoration for Eos is hardly a secret. A recent Business Week article, "Eos Airlines, Your Airborne Concierge" applauds the airline for its "business class services with a five-star hotel twist for passengers flying from New York's JFK airport to London's Stansted." The interior is luxurious and spacious, with 48 seats in a jet originally designed for 220 people. The individual passenger seating area is like a suite, with flatbed, worktables, personal entertainment units, and business travel conveniences. And it's a staggering 21 square feet per person. Not too shabby. The airline even offers "turndown service," with high-thread-count seats, cashmere blankets and Bose noise cancellation headphones. To quote Business Week:
While mainstream carriers such as US Airways are making headlines by eliminating packets of peanuts on board, Eos takes the opposite track by promising "restaurant quality, gourmet meals" with aesthetic presentation, along with a high-end wine and beverage selection. Passengers set their own eating pace by selecting either a five-course meal to be eaten at leisure or an "express" meal served at once.
Price? $6,500 for an unrestricted fare.
---

Related Hotels