Eos Airlines Launches Flights Between London and Dubai
---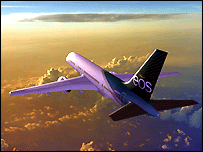 Fans of the luxury airline will be pleased about this one. Starting July 6, 2008,
Eos
will start daily service between London Stansted and Dubai's international airport. So now lucky passengers can enjoy the Eos Class experience when heading to the world's most outlandish, over-the-top destination. We've talked up the
Burj Dubai, the tallest building in the world
, but now Dubai's also getting one of the
biggest malls in the world-
- a gargantuan, 12-million-square-foot development complete with an indoor aquarium and an Olympic sized ice skating rink. Tickets to Dubai onboard Eos will be available starting in April.
---