Enjoying the Acropolis: Hotels With a View in Athens
---
The Acropolis hill, so called the "Sacred Rock" of Athens, is the most important site in the ancient city. During Perikles' Golden Age, ancient Greek civilization was represented in an ideal way on the hill and some of the architectural masterpieces of the period were erected on its ground.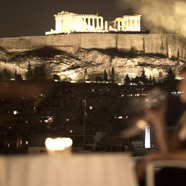 To really enjoy the view, here are three hotels with great rooms (or restaurants) with a view. For dining al fresco, the
Athenaeum InterContinental Hotel
in Athens can't be beat. Dine on Mediterranean cuisine at the award-winning restaurant Premiere. You'll be rewarded with fresh seasonal ingredients and stunning views of the Acropolis and the city lights below. Rooms on the upper two floors are great for viewing the wonder as well. At the
Grand Bretagne Hotel
, request a room in the front of the hotel in order to fully take in the splendor of the Acropolis. The Tudor restaurant on the 7th floor of the
King George Palace
features an impressive view of Athens and the Acropolis, and Food & Wine named the Alain Ducasse-cuisine as one of the "World's Best."
---