Enjoy the new Fairmont Gold Program
---
According to Fairmont, the
new "Fairmont Gold" program
will offer the following to be rolled out at selected hotels starting in 2008 -
"Representing a commitment to hospitality excellence, Fairmont Hotels & Resorts' offers guests Fairmont Gold. Fairmont Gold is a hotel within a hotel dedicated to a consistent high quality of personalized service and exclusivity that is designed to meet all the needs and expectations of the discerning business executive and leisure traveler. Within the `residential' surroundings of the Fairmont Gold Lounge, the specially trained & dedicated Fairmont Gold Managers provide warm, anticipative service through attention to detail and recognition.
As a guest of Fairmont Gold, you will be welcomed to the private and exclusive Lounge on the Fairmont Gold floor, where your room details are taken care of and your arrangements for a quick and easy departure are anticipated. The Fairmont Gold Lounge, exclusive for Guests staying in Fairmont Gold bedrooms and suites, caters specifically to each of the discerning guests' needs from a leisurely breakfast, to afternoon tea or evening refreshments from the honor bar.
Fairmont Gold rooms - elegant and residential in design - offer large feather pillows, lush terry cloth bathrobes, Twice Daily Housekeeping with Evening Turndown service and a special selection of personal care items. Furthermore, a spacious work area features a desk lamp, two telephones and complimentary high speed Internet connection for your laptop. Fairmont Gold truly is a definitive expression of our commitment to excellence."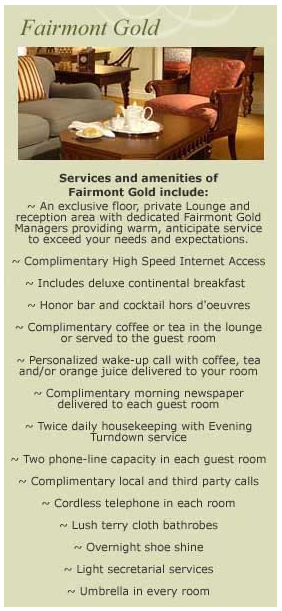 ---