Dublin's Merrion Hotel Offers Up a Recipe for the Ultimate Irish Coffee
---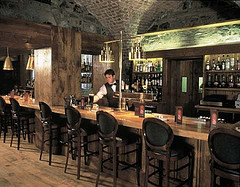 Here it is, the key to the signature Irish Coffee served by the experts at Dublin's most luxurious hotel. What better way to kill the chill of a cold winter's night.
The Merrion Irish Coffee
Ingredients:
Jameson Irish Whiskey - 35 cl and a drop for good luck
Strong freshly brewed coffee (caffeinated or decaf)
2 Brown Sugar Cubes (depending upon required sweetness)
50 m. Heavy Cream
3 Coffee Beans
Preparation:
Fill a cafe latte glass with a handle with hot water and leave to warm. Brew a pot of coffee. Empty the water from the glass and place the sugar cubes inside. Caramelize the sugar by pouring a few drops of Whiskey over them and gently light with a long match. Only let it burn for a few seconds so that the sugar just begins to caramelize. Pour in the measure of Whiskey and fill with coffee to within one inch of the rim. Ensure you keep a teaspoon in the glass at this stage. Stir well and ensure the sugar is completely dissolved to avoid a grainy texture when drinking. Place the cream in a clean cocktail shaker and shake vigorously until whipped. Using the back of the spoon, gently pour the cream into the glass. Garnish with three coffee beans and serve.
And according to the good folks at The Merrion:
On a typical winter's evening, The Merrion might serve up about a dozen Irish Coffees to patrons. However Stephen Lynch, Assistant Manager for the Drawing Rooms and Bar No. 23, reports that about two-and-a-half years ago, he and his staff prepared 150 Irish Coffees in an hour and a half much to the pleasure of the entire French Rugby Team who had taken up residence in the hotel bar that evening.
The Merrion, Official Site
The Merrion, Five Star Alliance
---

Related Hotels