Dollars for Euros at Capella Castlemartyr, Cork, Ireland
---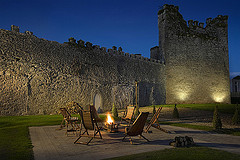 We aren't the only ones
who can't stop talking
about
Capella Hotels and Resorts
, the six-star hospitality group launched by Horst Schulze, the guy behind Ritz-Carlton's success and "whose name is synonymous with visionary hotel-building" (to quote
Travel + Leisure
). Guest service is truly an art form at these new luxury hotels.
Travel + Leisure
loves 'em just as much as we do:
Before leaving New York for Schloss Velden, in southern Austria, and Capella Castlemartyr in County Cork, Ireland... Benjamin and Iona called, identifying themselves as my private assistants. Was there anything they could do for me or needed to know about me before my arrival-- dietary don'ts, transfers, reservations, specific things I wanted to see or do? Wow, I thought. Lots of hotels send "thank you for staying with us!" notes after you check-out, but such exhaustive pre-calls are rare.
At Castlemartyr, the 100-room, ultra-luxe hotel situated on 220 lush acres in County Cork, Capella's team of private assistants, "defined as proactive concierges" can handle any request. (Macrobiotic meals? No prob.) This summer, experience this already-legendary service with a fantastic "Dollars for Euro" promotion for stays booked through July 31, 2008. U.S. residents will be allowed to pay the room rate with dollars (even though it's listed in Euros). Considering the exchange rate is hovering around $1.55, this is a deal.
---