Dispatch from France: Renovation of the Chateau of Versailles
---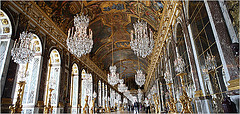 After a staggering renovation project, a three-year makeover, the Hall of Mirrors at the
Château de Versailles
has reopened and is ready to dazzle the château's three million annual visitors.
As described by the New York Times
:
This week, after a $16 million makeover, the full spectacle finally resumed, with the hall looking, as closely as possible, the way it first appeared to Louis XIV in 1684. With its 357 mirrors, 17 glass doors, marble walls, chandeliers and ceiling paintings, it remains-- as was the Sun King's intent-- a sight breathtaking in its majesty.
Restoration of the palace will continue until 2020. This $455 million project-- the "biggest renovation since the king moved out in 1789"-- is a daunting undertaking, considering the sheer size and scale of this impressive château: 700 rooms, 2,153 windows, 352 chimneys and 28 acres of roof.
---