Discover the Wines and Medieval Walled City of Soave with Verona's Due Torri Hotel Baglioni
---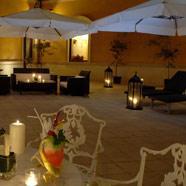 Discover Soave, Dante's favorite vino, when you stay at Verona's palace hotel,
Due Torri Hotel Baglioni
. The wine is named for the walled, medieval town that was formerly a Roman garrison.
Due Torri Hotel Baglioni
can customize an itinerary so you can wind your way through the famous Soave vineyards and discover the villages, farmhouses, shops, and restaurants of the town. In addition to wine, you can also visit the thirteenth-century Palazzo San Bonifacio, and the fifteenth-century Palazzo Cavalli. Also on the list of must-sees should be the gorgeous Palazzo di Giustizia, still the seat of the local court, and the imposing Palazzo Scaligero, formerly the seat of the governor from Verona.
---