Dining in Paris: Louis 2 at Hotel La Tremoille
---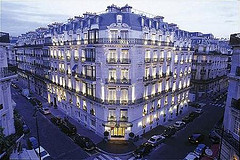 Back in May,
Hotel La Tremoille
opened a new restaurant, bar and lounge which has been quite the hit among Americans. Dubbed Le Louis², the restaurant was billed as "the new insider address for those in search of a certain Parisian chic." The menu, created by Chef Frédéric Duca, includes items like lobster brandade, sophisticated salads, and "finger" desserts. Service is available from 12 noon to 11 p.m. (
a convenience rarely found in the land of rigid meal times!
) Though named for Louis II, grand chevalier of the Renaissance and ambassador of the hotel, the restaurant is designed with splashes of modern chic: embroidered fabrics and luxuriously thick carpets against a backdrop of graphic lines and geometric patterns. While lounging in the comfy sofas or by the fireplace, guests enjoy live music from the piano bar. There's also a sun lounge.
---