Dine With or Without at the Luxury Parisian Hotel Le Meurice
---
Hotel Le Meurice
chef-in-residence Yannick Alleno has recently been awarded a third Michelin star for his work at the hotel's Restaurant Le Meurice. But when he's not winning awards, he's devising a innovative new menu at Le Meurice's Le Dali restaurant.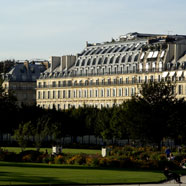 The clever and entertaining menu at Le Dali reflects the whimsically absurd artist it is named after. Dishes are divided into into two categories: Indulgence or Abstinence (Or for those who speak French, Sans and 100 percent). Chew on Chasteness, (Sea bass with balsamic vinegar and pan-fried vegetables) or Coolness (Tomato gazpacho with mustard ice cream). Taste Taboo (Oscetra Royal Caviar), or dine on Delicacy (Strawberry tart with pistachios from Sicily.)
Hunger (Chocolat and caramel dome) never tasted so good.
---