Destination: Turks and Caicos Islands
---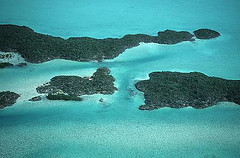 The cat's out of the bag about the white sand beaches and immense coral reef of the Turks and Caicos islands. As described by Outside Traveler:
Word of mouth helped establish TCI as a jet-set retreat. It started in 1998, when renowned hotelier Christina Ong built a private island resort on Parrot Cay... Now, with new nonstops from Boston and Fort Lauderdale, as well as flights from other hubs, TCI is no secret... and last February a new Carnival cruise-ship terminal opened on the southern end of Grand Turk.
But on the more isolated stretches of the archipelago, elite luxury hotels have staked their claim, dedicated to ecotourism, energy conservation, and preservation of the pristine natural environment. The stunning Amanyara resort opened in March 2006, nestled on the tip of a 5,000 acre nature reserve on the secluded western shore of Providenciales. Coming in 2008: the $300 million Ritz-Carlton Molasses Reef, a unique eco-conscious residential community and boutique resort situated on the unspoiled, uninhabited island of West Caicos. And in 2009, eco-friendly Fairmont Hotels is slated to open a 150-room luxury hotel on North Caicos.
Related Articles:
---