Destination Lucerne, Switzerland and the Palace Hotel Luzern
---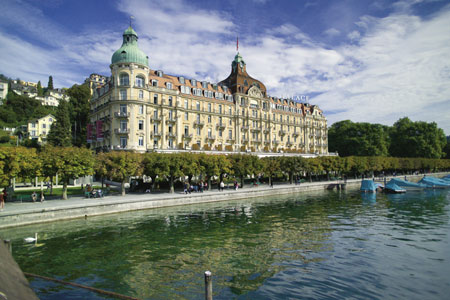 In a
recent article
, European travel guru Rick Steves pays tribute to perfect Swiss cities. Often bypassed by thrill-seekers headed to the mountains, "Switzerland's pristine urban offerings" shouldn't be neglected. One of Rick Steves' favorites? The lake-side city of Lucerne (Luzern) with the Alps as its panoramic backdrop:
Since the 19th-century Romantic era, this charming city has been a regular stop on the "Grand Tour" route of Europe, entertaining visitors from Mark Twain to Queen Victoria. Luzern's Chapel Bridge -- one of two picture-perfect wooden bridges -- was built at an angle to connect the town's medieval fortifications. Today it serves strollers rather than soldiers. About 100 colorful paintings -- some replicas and some dating from the 17th century -- hang under the bridge's rafters, showing scenes from Luzern and its history. Swans cluster near the bridge. Locals say they arrived in the 17th century as a gift from Louis XIV in appreciation for the protection his Swiss Guards gave him.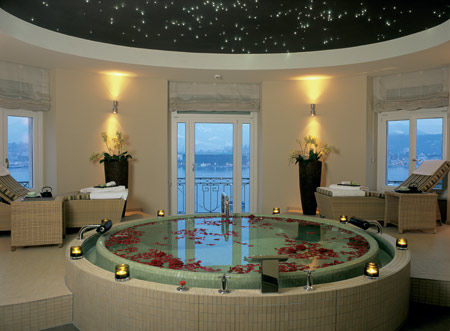 Where to bunk down in Lucerne? For a dose of Old World hospitality, check into the Palace Luzern right on the shores of Lake Luzern just five minutes from old town. You'll find spacious, light-filled guest rooms outfitted with the finest fabrics and furnishings. At your feet: the lovely lake framed by the alpine landscape. Tuck into some Michelin-starred cuisine at Jasper, and book an exclusive treatment-- like the Authentic Swiss Alpine Herb Compress Massage-- at the Palace Spa.
---