Designers and Their Hotels: Diane von Furstenberg Remakes Claridge's, London
---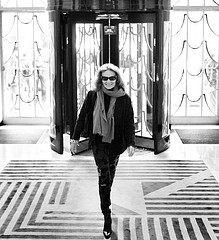 Over the last few years,
we've witnessed a growing trend
in the hotel world: top designers are being enlisted to add some glam to hotels' interior design. From
Missoni
to
Armani
to Vera Wang, luxury hotels around the world are being transformed with star power. The latest announcement: Diane von Furstenberg is designing a series of rooms and suites for
Claridge's
, the famed Art Deco hotel in Mayfair that's home to
Gordon Ramsay at Claridge's
. (This is the same luxury lodging that
showcased a dazzling Christmas Tree by John Galliano
this past winter.) To be unveiled in June, the rooms will feature
"bold prints, bright colors, and originally-crafted pieces of Diane von Furstenberg furniture.
"
Here's the designer quoted in Vogue Magazine UK:
"One of my fondest memories was when I was in London as a young, independent businesswoman and stayed at Claridge's," von Furstenberg said today. "I knew I had made it. To me, Claridge's is the most glamourous hotel in the world; I regard it as my home away from home. I am honoured to become part of the hotel's legacy and rich design history."
---