Da Vinci Code Chateau for Rent
---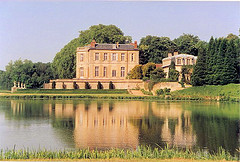 By Luxury Larry of World Extravagant
One of the biggest movies to hit the screens this year will surely be the Da Vinci Code, based on the best selling novel, starring Tom Hanks and directed by Ron Howard. Many people do not know, but the chateau which is featured extensively throughout the book, Chateau de Villette, actually exists and parts of the upcoming movie were filmed on location.
Only 35 minutes outside Paris, Chateau Villette does exist and is one of the most historical chateaux in all of France. The property was built in the late 1700s by Jules Hardouin Mansart, and has 17 bedrooms each with its own private bathroom on 185 acres of gorgeous grounds which were landscaped originally by the Sun King's personal gardener, Andre Le Notre, complete with lake, swimming pool, tennis court, and hunting grounds.
Even though you feel as if you were in the 17th century, there is a modern telephone system accessible from each room, in addition to wireless Internet connection. The chateau is a spectacular location for family vacations, weddings, seminars, product promotions, business meetings, elegant parties and other special events.
---