Cure the Blahs with Oceania's Finest Hotels
---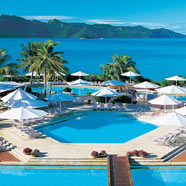 Blah, Blah, Blah! That's what I thought of when I read that Australia was once again ranked #1 by the Harris Poll as the top destination for prospective American travelers (if money is not the primary consideration, and, really, why should it be?). And to that, as noted, I say blah, blah, blah. Why? Well, where else would it be? Australia boasts a unique cultural identity set on a massive, mostly uninhabited continent that is as fascinating in its diversity as in its beauty. From Sydney's picturesque skyline to the blazing red sands of Ayers Rock to the crystal clear waters of the Great Barrier Reef, Australia has it all and so much more. Amongst that "so much more" are some of the world's finest hotels, including the award winning property from the Signature Destinations group,
Hayman Island Resort
, Great Barrier Reef. This majestic hotel is ranked #4 in
Travel & Leisure's
World's Best Awards, 2009 (Australia, New Zealand, and South Pacific region). And not to be overlooked, which it often is, New Zealand boasts two more Signature Destinations properties on the same list.
The Farm at Cape Kidnappers
checks in at #2 and
The Lodge at Kauri Cliffs
is ranked #1! While having such amazing resorts in the top positions may inspire me to say "blah, blah, blah", seeing these amazing hotels certainly won't.
Follow Five Star Alliance on Twitter!
---