Cunard's Queen Elizabeth 2 to Become Luxury Floating Hotel in Dubai
---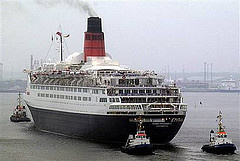 The legendary QE2, launched by Great Britain's Queen Elizabeth II in 1967,
has been sold
to Dubai's
Istithmar company
for a mere $100 million. The longest serving vessel in
Cunard's
history, the ocean liner crossed the Atlantic more than 800 times and carried more than 2.5 million passengers. Now the ship will become a must-see tourist attraction in Dubai (
where else?
)-- where it will be converted into a luxurious floating hotel at the
Palm Jumeirah
. After an extensive refurbishment program to recreate all the original interior décor, the QE2 will reopen in 2009 in its new permanent home: a pier at the
Palm Jumeirah
, the world's largest man-made island.
---