Cruise Packing Lists: Surprising Suggestions
---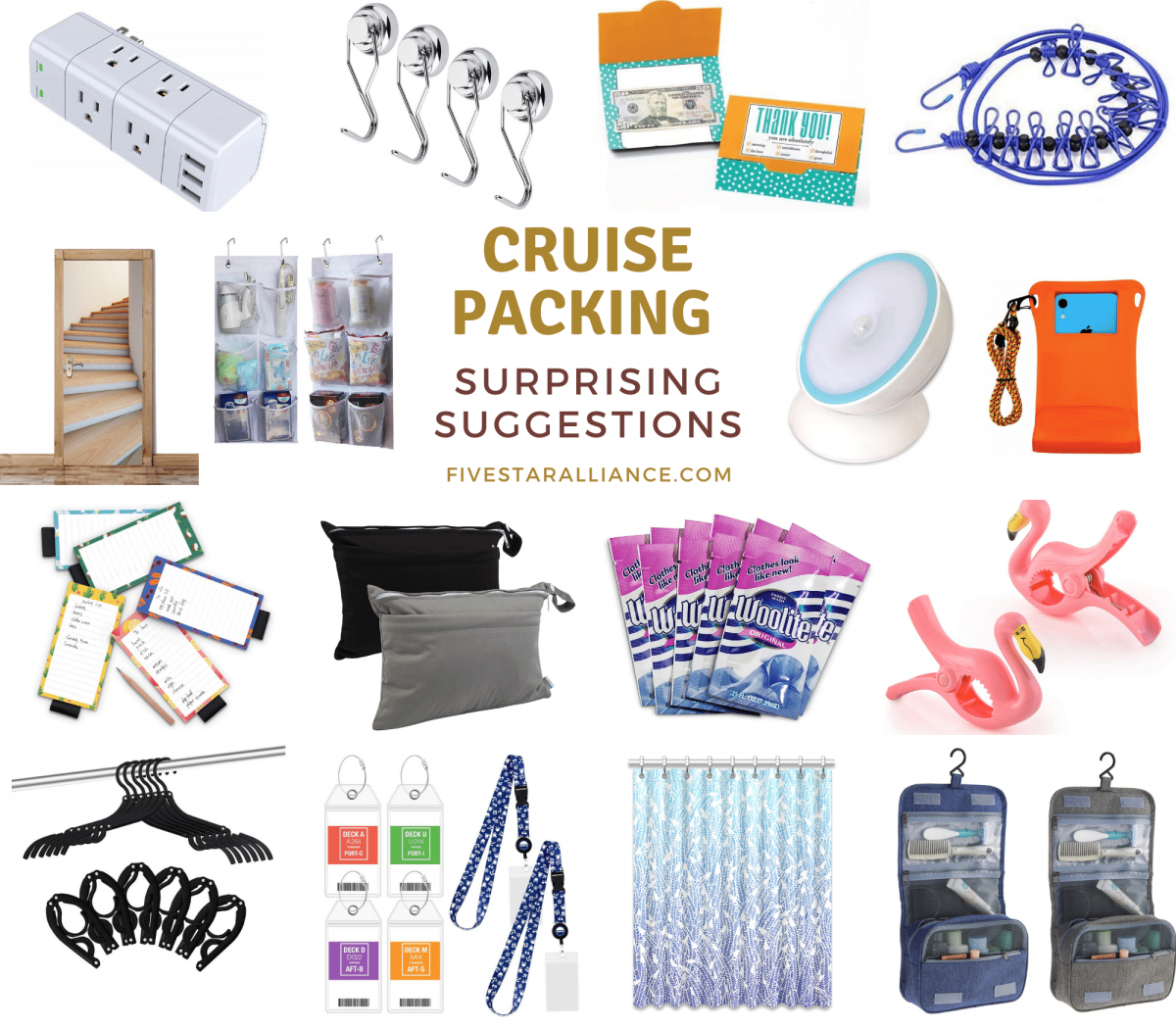 Looking for an answer to what are some of the best non-obvious items to pack on a cruise? You've come to the right place. Below we suggest the best items to throw in your suitcase and why.
Keep in mind we are NOT including the obvious, essential items like a camera, small cash bills, sunglasses, walking shoes, your medications, etc.  
---
PACKING LIST
BINOCULARS

​No need to tote around anything big. There are quite small high-powered ones that do the trick, especially for general uses for binoculars like sightseeing.

THANK YOU CARDS

​​Don't just use an envelope, give tips and gratuities to staff in a "Thank You Card" that can easily hold cash and is more heartfelt.

NIGHTLIGHTS

Battery powered nightlights (not ones that need plugs). Getting up to go to the bathroom or whatever will be dark. Look for ones like "Magnetic LED Puck Light for Under Cabinet Lighting, Closet Light, Battery Powered, Push Lights, Tap Lights, Touch Lights". If you can also find motion detector ones. This one is my favorite that I take with me (they are small) link.

CLOCK

LED digital, dimmable, battery operated alarm clock with large display. You will never know what time it is and have to check your phone/watch constantly. That's extra annoying in the middle of the night. 

LAUNDRY DETERGENT

Woolite Travel Sized Laundry Detergent Packets - these are easy to carry and really easy to use. Whether in a tub, sink, or the floor of a shower, you can get laundry clean and then hang it to dry.

MINI-PLUG EXTENDER

You cannot bring power strips on most ships. They will confiscate these from you. But you'll need more outlets than exist in the cabins. You are going to want to bring more than one wall mount multi-plug extender. Make sure you pick ones that have both outlets and USB ports. You will also want something like a "Fast Family USB Travel Charger". These are great for cruise ships but ALSO for using when you are at home or work.

LUGGAGE TAGS

Clear plastic luggage tags that can be zip sealed and have steel loops. These are for your luggage tags. Each cruise line will provide you with luggage tags prior to sailing - normally they are just paper and you staple or tap them on your baggage handles. The only your luggage is going to be brought to your room at the start of your cruise is if the luggage tag is displaying. You can buy these quality pouches in lots of different sizes and options for different cruise lines.

TOWEL CLIPS

​Beach Towel Clips. Cruise ships can get very windy. So can beaches. Using these clips will ensure you don't have towels flying off into the ocean but also denotes YOUR chairs and space so others won't try to take them. They have really fun designs and options.

EAR PLUGS

Noise Cancelling/Reducing Ear Plugs. You'd be surprised some of the stuff you might hear when you don't want to and can't avoid it.

MINI FAN

Rechargeable, mini portable battery fan. Cabins may be individually climate controlled, but it can get hot.
---
MAGNETS
Your ceiling, doors, and 80% of your walls are magnetic. Strong magnets. You need to use this to your advantage.
HOOKS

Magnetic hooks. I own about 20 of these in different sizes and strength. Make sure to get ones that are Neodymium and hold at least 20 lbs. You'll use these to hang your lanyard, clothing, towels, ALL KINDS OF STUFF.  This is a must have and you will never have enough.
In the bathroom, make sure you add some more magnetic hooks for towels, bathing suits, etc.

NOTEPAD

Magnetic whiteboard or notepad (and magnetic pencil holder or string to tie a pen). You'll want to be able to leave notes for each other (you can stick them up with magnets), and also for your housekeeping staff, etc. It comes in more handy than you expect.

DECORATION

Refrigerator magnets, magnetic bumper stickers, etc. You're going to want to decorate each cabin door. Every hallways and every room look EXACTLY the same and go on forever and finding your room is annoying. If you aren't paying attention you could go in circle for house and never get these. Decorating your door with magnets (or painters tape) makes it easier to find your cabins, gives people walking by some enjoyment, and everyone loves them. You can also do the plastic/paper door covers or whatever, but you have magnets - take advantage of them. You will see lots of people who cruise frequently doing really elaborate stuff.
---
CRUISING WITH A GROUP
WALKIE-TALKIES

Communicate with your fellow travelers or between cabins if you have more than one. Lots of ships are providing wifi text and calling onboard so that passengers can communicate with each other - but that's not universally true. 

SHOWER CURTAIN

Extra long, magnetic shower curtain (not clear). Using the magnets, you'll hang this from the ceiling to divide up your room when necessary. In case you want to separate sleeping areas, privacy for changing outside the bathroom, etc. You can buy a few very cheap ones and then use them later in your home, or just keep them in your "cruise supplies" section. This is not a necessary item, but can be a cheap easy way to separate spaces for groups like yours.
---
STORAGE
WATER BOTTLE/TRAVEL MUG

Refillable water bottles and travel mugs are great for grabbing what you need and always having some available, while not being as wasteful with glasses or waste.

HANGING TOILIETRIES BAG

Make sure your toiletries bag has a hook on it. Use the hook (and magnets if needed) to have constant access to your things without them flying all over the place, being touched by others, getting in the way of housecleaning, etc.

HANGING ORGANIZER

Bring a mesh, hanging organizer (one that can hang over the door, or in the closet, or off magnets on your wall -- like you would buy to use for shoes). You can use this for jewelry, smaller items, all kinds of things. Even shoes. Waterproof mesh hanging organizers can also be great in the shower to hold shampoo, conditioner, razors, soap, etc.

CLOTHESLINE

Portable Travel Clotheslines are great for the bathroom, balcony, or even up at the pool. They are pretty small but come in handy if you have a bunch of beeach/pool stuff to dry.

LANYARD POUCH

Clear, zip seal pouch on a lanyard to hold your identification, room key, credit cards, etc. You'll frequently have to be showing or using the onboard ship card and this helps keep it handy and you won't lose it.

WATERPROOF PHONE CARRIER

Waterproof phone pouch. They have gotten pretty sophisticated with these so that you can still use your touchscreen even when it is enveloped in plastic. You can also use these to hold room keys, vaccination documents, credit cards, identification, etc. They come on lanyards and make like much easier. 

WET/DRY BAG

Travel, hanging, washable Wet Dry Bags that allow you to carry your wet and dry items in the same bag.
Anything we're missing? Let us know!

---