Crave Sydney Festival Highlights Australia's Best Cuisine and Culture
---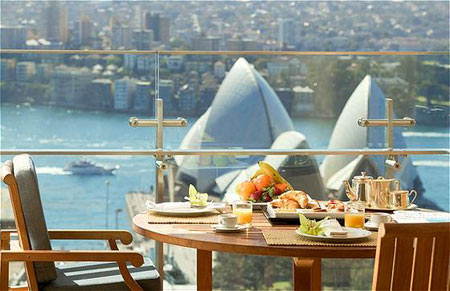 Do you like food? Do you like Australia? If you said yes to both of those questions, and I'm quite sure you did, than the Crave Sydney festival is perfect for you (
www.cravesydney.com
). This exciting month-long event includes experiences both inside and outside of the Harbour City:
1. The Sydney International Food Festival (October 1-31, 2009), a month long culinary extravaganza that features 16 of Australia's most exciting chefs in this burgeoning food market. The highlight of the festival is Breakfast on the Bridge, a unique chance to indulge in New South Wales inspired cuisine on the world-renowned landmark, Sydney Harbour Bridge. Looking for a place to stay in Sydney? Try the luxurious Intercontinental Sydney (pictured).
2. In Melbourne, Hidden Secret Tour's offers the Sommelier City Walk. Including three venues, with three inspired dishes paired with excellent Australian wine, you will indulge while you tour this accessible city with prices at only $145 per person. Melbourne elegance is on offer at the Langham Hotel Melbourne.
4. Famous winemaker Penfolds is offering its "Make Your Own Blend Tour" throughout the wine regions of South Australia. You'll be based in the Barossa Valley, and invited into Penfolds' Winemakers' Laboratory. There you can blend your own wine before taking home a personalized bottle, and this offer is a steal at only 55 AUD per person. Enjoy that personalized bottle in the comfort of your spacious room at Thorngrove Manor Hotel.
5. Finally, indulge at Melbourne's most exciting restaurant, Tjanabi. This award-winning restaurant offers the best in traditional Australian dining, featuring a menu of excellent Australian game like Kangaroo, emu, crocodile, wild boar and seafood. Revel in Melbourne comfort and style at Sofitel Melbourne.
So take advantage of Crave Sydney, and travel in style with luxury hotels on offer throughout southern Australia. And remember, October is the Australian Spring, the finest season to finally go Down Under.
Follow Five Star Alliance on Twitter!
---