Climate Change Conference Ends, Copenhagen Hotels Seek Guests
---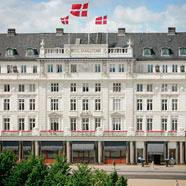 December 18th marks the end of the United Nations Climate Change Conference in Copenhagen, Denmark. It also means the end of the silly season for some of Denmark's finest hotels. Enjoying the aura of a major international event is always a boon for business, but only a few establishments can maintain that heat throughout the year. For your next business trip to Copenhagen, perhaps for a climate change conference of your own, try these two stunning luxury hotels:
First, the Hotel D'Angleterre Copenhagen offers classic European charm. Built in 1755, the Hotel D'Angleterre has long been the choice of many of Copenhagen's elite visitors. And with the famous Karen Blisen suite, which was voted the most romantic suite in Denmark, and the renowned Restaurant D'Angleterre, couples can also indulge in this flagship property.
Next, for a slightly different approach, try the ultra modern, and ultra luxurious, FRONT Hotel. This hotel represents everything new and exciting about Denmark's future, and with a location along the harbour promenade FRONT Hotel couples its modern amenities with a prime location. And here's a secret, ask for a sea view room upon booking. You won't be disappointed.
---