Chillin' by the Black Sea at the Grand Hotel Rodina, Sochi, Russia
---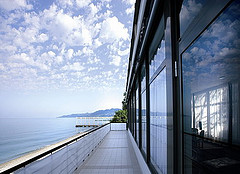 Now you can stay next door to Vladimir Putin's summer house on the Russian Riviera. When he's not
hazing the new French president
, Vlad hangs out here in Sochi, the historic seaside resort on the Black Sea.
Stein Hotels
opened
Grand Hotel and Spa Rodina
in May 2006 and the media's been abuzz ever since. Set within 15 hectares of gardens that lead down to a private beach club, the hotel has dramatic views of the snow-capped Caucasus Mountains, sandy beaches of the Black Sea, and Putin's official summer residence. Joseph Stalin originally created the resort in the 1950s as a retreat for the party elite. For over two centuries, the country's rich and powerful flocked to these shores, now also known for its annual film festival held in June. The subtropical climate-- the most northernmost like it in the world-- means lush terrain and lots of leafy palms. (You can swim from April through October, and hit the ski slopes from October into May.) Discover the magnificent botanical gardens, the only tea plantations in Russia, and the magnificent canyons and waterfalls of the nearby Caucasus mountains.
Grand Hotel Rodina is an exclusive property of only 42 rooms and suites, some with private terrace Jacuzzis. Soak in the oversized swimming pools (the best in the area), catch a flick at the private cinema, dine al fresco on the rooftop terrace, stake your claim to a piece of paradise at the exclusive Beach Club. The facilities are truly presidential, with tennis and basketball courts, a helicopter pad, boathouse, billiard room, and fully-equipped gym and spa. The best part of all? The cigar room located in the 50 year old bomb shelter.
---