Chill Out Before You Go Out at The Athenaeum Hotel and Apartments in London With The Girls Night Out
---
From Jonathan Critchard, General Manager and Stephen Fox, Director of Sales & Marketing, The Athenaeum Hotel and Apartments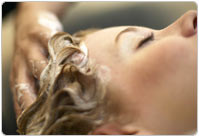 You and your girlfriends are visiting London for the theatre, a night out on the town, or just to get away from everday life, the Athenaeum Hotel and Apartments is the place to stay for a feeling of tranquillity in the heart of London. And best of all? They have a package just for the "girls" which provides the epitome of pre-party pampering. And for that post-party snack? They have 24-hour room service and an inclusive English breakfast.
Plus, if you are visiting on a Wednesday evening, you can look forward to an informal cocktail gathering at 5:30pm in the Penthouse.
See the The Girls Night Out package below ...
Chill Out Before You Go Out

Most hotels want their guests to stay in. We help you to go out with the ultimate in pre-party pampering - "Girls Night Out". This is the ultimate way to start a night out in London - Cinderella could not have wished for more ...

The fun starts straight away, as you check into a stylish apartment. From thereon, indulgence is the key: a relaxing facial, is followed by a conditioning treatment and blow-dry, whilst sipping tea and coffee and nibbling elegant home-made girly patisseries. Once the top-to-toe beautification is complete, champagne and canapes ease the way into the evening, as the party clothes go on. The next morning, a serious rundown of the night before is fuelled by a scrumptious English breakfast, served in the apartment, or the restaurant if you feel up to moving.

The Athenaeum Girl's Night Out includes:

* One night's accommodation in a private Apartment for four people

* A Facial, Conditioning Hair Treatment and Blow dry - available in room or in the Spa

* Tea, coffee and Cakes whilst having the treatments

* A bottle of Champagne with canapes served in the apartment

* English Breakfast for four
Also be sure to check out Solo Women Travelers Trends if your traveling alone ...
The Athenaeum Hotel and Apartments, Official Site
The Athenaeum Hotel and Apartments, Five Star Alliance
---

Related Hotels