Check Out London's Newest Luxury Hotel, The Montcalm, and Take Chocolate Tea
---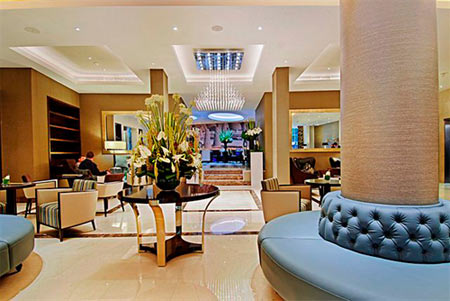 There's a new luxury hotel on the block. After a major renovation by Shaftesbury Hotels,
The Montcalm
reopened in September last year at the top of Park Lane in the heart of London. The sophisticated, contemporary design aesthetic emphasizes comfort; guest rooms have enormous bathrooms with rainshowers and all the latest technology. You can even choose your room aroma when staying in a luxury suite. Decked out with a spa, small exercise pool, jacuzzi, and gym, the Wellness Centre gets high marks from guests.
Nice perk
: Guests in Club rooms and suites receive a free 20-minute spa treatment. Don't miss The Montcalm Chocolate Indulgence,
the hotel's whimsical take on traditional afternoon tea.
Priced from £23.50, this chocolate tea starts with decadent hot chocolate, plain and chocolate scones, Chantilly cream and chocolate ganache. Next up: a gorgeous selection of pastries like the Gianduja and Praline Chocolate Slice, Gateau Opera, Swiss White Chocolate & Mandarin Tartlet, Dark Chocolate & Grand Mamier Macaroon, and Bitter Chocolate & Espresso Cup.
---