Champagne Bar, Louis Vuitton Elevator: Sofitel Trocadero Is Now the Radisson Blu Le Dokhan's Hotel, Paris
---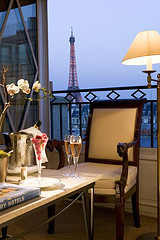 One of our favorite Parisian gems-- housed in a historic private residence in the 16th arrondissment-- has recently changed hands. Home to a lovely Champagne bar,
Sofitel Trocadero Dokhan's
morphed into the Radisson SAS Le Dokhan's
into the
Radisson Blu Le Dokhan's
(as
Radisson SAS has updated its brand name
). Besides Le Dokhan Bar, the city's first Champagne bar, what else do we love about this boutique hotel? For starters, the
elevator made from a vintage Louis Vuitton wardrobe trunk
. We're fans of the hotel's art collection, too, and the stylish guest rooms featuring period antiques and marvelous fabrics.
---