Carnival in Curacao: Special Winter Rates at Hotel Kura Hulanda
---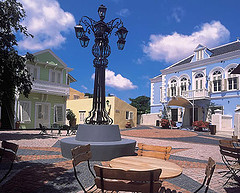 Soft sandy beaches. Excellent scuba diving. Beautifully colored colonial houses and architecture that is part of a UNESCO World Heritage Site. A vibrant cultural melange (including Arawak, Dutch, Spanish, West Indian, Latin, and African). Lively nightlife. Curucao has it all. And in the winter months, these islands-- about 35 miles north of Venezuela and a 2 1/2 hour flight from Miami-- host one of the best festivals in the Caribbean: Curacao's Carnival. As described by Fodor's:
Starting in early January, street dances, parades and parties -- called "Jump-ups" -- get underway every weekend through the end of Carnival. The main parades, featuring fantastic floats and costumes, take place in February and early March. (Parade routes vary from year to year, so ask your hotel concierge about special seating for tourists.)
Where to stay? Hotel Kura Hulanda Spa and Casino is the only five-star hotel in Curacao. A member of Leading Small Hotels of the World, the hotel and its new sister property, Lodge Kura Hulanda and Beach Club, are located in central Willemstad, overlooking the glorious St. Anna Bay. Kura Hulanda is itself a museum, offering a superb collection of 18th and 19th century architecture in this Dutch Colonial historic district. The 80-room luxury boutique hotel is nestled within a village complex which is part of this exciting historic and environmental preservation project. Take advantage of an excellent Winter Value Rate of $210 per room, per night at both properties, available until April 8, 2007.
---