Capella Under the Stars: Three-Day Long New Year's Celebration at Capella Singapore
---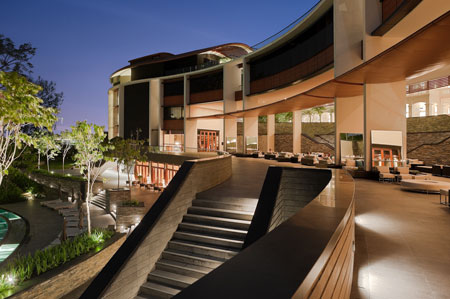 Check into Singapore's gorgeous
Capella Resort
for a lavish three-day New Year's celebration on the South China Sea. Enjoy excellent cuisine, personalized service, and ultra-luxurious accommodations on Sentosa Island, just minutes from the bustling city center. Here's what's in store: The two-night "Capella Under the Stars New Year Experience" begins on Thursday, December 31 with welcome champagne in the room upon arrival for all guests. In the evening, kick back at the New Year's Eve party held at The Knolls poolside restaurant, where the pool will be transformed into a floating stage for live entertainment, partaking in a five-course Mediterranean gourmet dinner, premium champagne and full open bar. Late night snacks will be served until 2 a.m. For the morning after, the Recovery Brunch on New Year's Day at The Knolls is just what the doctor ordered. At night, there will be a couture fashion extravaganza complete with a four-course dinner. For the third and final day of celebrations, relax with the Grill & Chill lunch on January 2.
Package starts at S$4,500
(about $3,240 USD) for a Deluxe/Premier Room for two people.
---

Related Hotels