Buzzworthy: Sun International's Palace at Port Ghalib, Egypt's Red Sea Riviera
---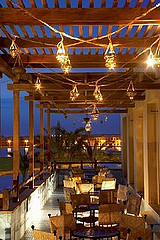 Billed as the premier resort destination on Egypt's Red Sea coast,
the new Port Ghalib development
, just 2.5 hours from the Valley of the Kings, is home to Sun International's 5-star citadel of indulgence.
The Palace at Port Ghalib
has made quite the stir since its debut last November 2007. Surrounded by fountains, terraced gardens and a kilometer-long swimming lagoon (
the second largest saltwater lagoon ever made!
), The Palace is truly spectacular. Each of the 309 premier rooms has butler service and a private balcony and terrace overlooking the Red Sea. For the ultimate indulgence, the 13 Royal Suites pamper guests with spa-like bathrooms and elegant surroundings (intricate architectural details and luxurious furnishings). In addition to the Palace, there are two other hotels on-site at Port Ghalib: the Sahara Sun Oasis and the Sahara Sun Sands. From here, try your hand at any number of activities-- from scuba diving and fishing to jeep treks and camel rides.
---