Buzz: Morgans Hotel Group Debuts "Minibar for the Mind"
---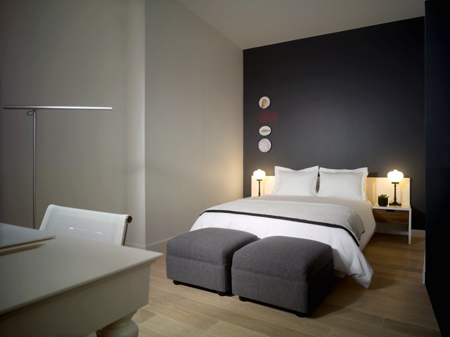 Leave it to Morgans-- the luxury hotel group behind hip properties like
London's Sanderson
and the
Mondrian in West Hollywood
-- to come up with an innovative new offering to stretch guests' minds.
As reported by The Independent
, Morgans has partnered with
The School of Life
, an organization that runs programs to increase personal fulfillment, to "ensure that the minds of its guests are as well exercised as their bodies." They're unveiling something called the "Minibar for the Mind," like a Pandora's box filled with items to unleash your creative spirit and intellectual curiosity. Described as a "midnight feast of intellect, inspirations and ideas," the Minibar for the Mind includes "a box of 250 conversation starters, a volume of columns written by faculty at The School of Life, "Reading Prescriptions" designed to evoke moods of relaxation or seduction and a notebook and pencil set."
Here's the skinny from The Independent:
The set costs $56 (suggesting, perhaps, that minibars are extortionate whatever you put in them) but guests who don't want to shell out for the product will also be treated to a "Daily Aphorism" with their turn down, with insights from some of the world's great literary minds.

Over dinner, guests at Morgans' Hudson (New York), Ames (Boston) and Sanderson restaurants will also be offered a Conversation Menu, which features "conversation prompts" to help diners participate in a chat that "moves beyond the domain of the weather and the price of gas."

School of Life faculty members will also be conducting a series of talks in Morgans' hotels, covering topics such as conversation, reading, travel, romance and culture.
---