Buy a Cabin on The Utopia, the $1.1 Billion Cruise Ship
---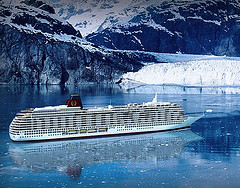 Get in on the action and buy a share of the new 1,000-foot, 105,000-ton luxury ocean liner called The Utopia. Set to launch in 2013 from South Korea, the $1.1 billion ship will hit up key destinations and events around the globe.
To quote the Los Angeles Times
:
During the Cannes Film Festival, the ship is slated to drop anchor near the south of France in the Mediterranean sea. During the carnival celebration in Rio de Janeiro, the ship plans to dock off the coast of the Brazilian city. On New Year's Eve, cruise ship operators hope to take passengers to Sydney Harbor in Australia to enjoy the fireworks display.
Also on the agenda? The Tour de France bicycle race, Monaco Grand Prix, and the America's Cup. Half the posh cabins on board the ship will be for sale as floating homes, with prices ranging from $3.7 million for a 1,400-square-foot residence with two bedrooms and two baths to $26 million for a 6,600-square-foot cabin with four bedrooms and three baths. Facilities on the ship include three swimming pools and a "lazy river," tennis courts, an outdoor movie theater, mini golf, shops, and restaurants.
---