Buon Appetito: Italian Cooking School in Florence at the Villa San Michele
---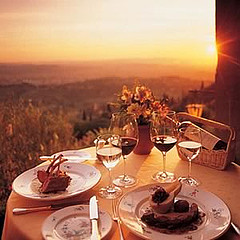 Want to know what
al dente
really means? Learn to cook, Italian style, in one of the most beautiful settings on earth. As described by
Outside's Go Magazine
, the
Villa San Michele
is the place to go to "whip up a Tuscan feast:"
No spot embodies Italy's impassioned gastronomic aesthetic better than the luxury hotel Villa San Michele, a 15th century monastery perched on a hill overlooking the baroque domes and red-tile roofs of Florence, with a façade designed by Michelangelo.
We are big fans of this cookery school, where both serious foodies and beginners can learn with the masters. You can try your hand at traditional Italian cuisine with an intensive 2.5 hour class offered three days a week, or dabble in other subjects, like "cooking with flowers" to a pasta seminar. It's all about hands-on instruction with the experts. Plus, we can't imagine a finer setting to sleep off a fabulous feast.
---