Bread and Butter Special with Hotel Rey Juan Carlos, Barcelona
---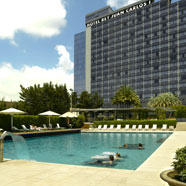 The Hotel Rey Juan Carlos
, located in spectacular Barcelona, has state-of-the-art outdoor lounging areas, two swimming pools, exquisite gardens, as well as a Wellness Center and Spa. From June 30th through July 6th Hotel Rey Juan Carlos is offering a
"Bread and Butter"
special.
For only EUR 178.50 per night
guests can stay in one of the hotel's posh double rooms, and receive breakfast in the hotel's
Polo Restaurant
, a 30 minute massage at the wellness center, "strawberries extravaganza" and bottles of water and chocolate. Barcelona is an exciting city full of rich culture, and what better way to enjoy all of that than with the
Hotel Rey Juan Carlos
.
---