Berlin's Hip Urban Delights
---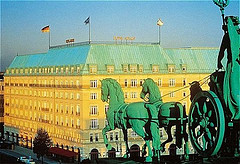 The uber-chic German capital has got it all: more than 170 excellent museums, happening nightlife, dreamy palaces, and exquisite fine dining (but don't rule out the beer halls and down-home sausage and sauerkraut specialties). Berlin boasts a rich cultural landscape. To quote Sherman's Travel:
If an outdated mental picture of Berlin as a once-divided city is keeping you from visiting the capital of Germany, you haven't heard that it is the hot, hip urban destination for jet-setters, beer-lovers, and culture-vultures alike. New life has been breathed into the city, and now is the time to go and experience it.
And perhaps the best part of all, Berlin's positively brimming with world-class hotels, from the elegant and utterly luxurious Regent to the world famous Kempinski Hotel Bristol, from the Schlosshotel Im Grunewald, the city's only historic castle hotel, to the Radisson SAS with its enormous lobby AquaDom (the world's largest cylindrical aquarium) stocked with 2,500 exotic fish.
---