Beauty Treatments Inspired by Hollywood's Golden Age at Claridge's, London
---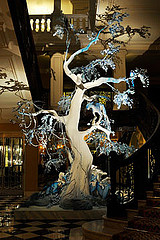 Leave it to
Claridge's
to wow guests with a whimsical new spa offering. A darling of celebrities, the Art Deco hotel in London's Mayfair has made headlines recently for its collaboration with fashion designers:
new guest rooms by Diane von Furstenberg
and a
head-turning Christmas tree, unveiled in the lobby last winter
, by John Galliano for Dior (pictured).
Now we're learned about
a new selection of beauty treatments inspired by the Old World glamour of Claridge's and the Hollywood icons who used to call the hotel their second home. Luxuriate in Claridge's spa treatment rooms-- tucked away on the 6th floor, offering beautiful views over London's rooftops-- and get pampered to "picture perfection" with the following treatments: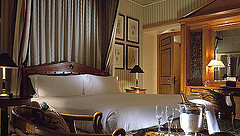 *The Greta Garbo: For those who want to be alone, remove yourself from the hustle and bustle of everyday life and enjoy some quiet "me-time" with this classic restorative ritual.

*The Grace Kelly: Rediscover your inner serenity and poise with a beauty programme suited to high society.

*The Vivien Leigh: Prepare for that all important red carpet debut just as other English Roses have done so in years gone by.
Gentlemen won't miss out on the fun. Claridge's offers luxury men's grooming too:
*The Clark Gable: Give a damn and rejuvenate with a programme suited to the brutally masculine yet refined and style conscious.

*The Fred Astaire: Stay light on your toes with a programme of treatments suited to gentlemen with an eye for immaculate detail.

*The Cary Grant: Unwind and indulge with a gentlemen's pampering programme, the perfect preparation for a charismatic close-up.

*The Bogey & Bacall: Emulate Hollywood's iconic sweethearts with a romantic couple's treatment.
---