Bargains in Beijing: Pampering at InterContinental Beijing Financial Street
---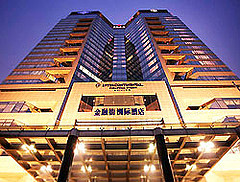 Reduced trips to Walmart and Target= less American consumption= less business travelers checking out goods in Chinese factories= empty planes and empty hotels. Now is certainly the time to check out the wonders of China, broadcast on the world's stage during the Summer Olympic Games in 2008. Speaking of which, Beijing went nuts on the hotel building while prepping for the Olympics. Translation: There are now five-star hotels for the taking.
As highlighted in a recent Portfolio.com article:
Alone among U.S. carriers, Continental Airlines launches a new nonstop service to Shanghai (from its Newark hub) later this month, and its introductory pricing set off a fare war. Flights to China can now be scored for as little as $800 roundtrip with a modest advance purchase. With overall hotel occupancy rates hovering around 50 percent in Beijing and Shanghai, bargains are everywhere. Room rates as low as $100 a night in newly built, four- and five-star properties with familiar Western brand names are common.
If we had our druthers, we'd check in to the InterContinental Beijing Financial Street to gawk at the 18-storey atrium and cool contemporary design. The spa is pretty fab, too. Ask the concierge about Tea Time; you can get a taste of Beijing culture on a visit to the Lao She Teahouse. The hotel can also arrange personal walking tours of Beijing with your very own private guide: the InterContinental's chief concierge.
---