Baby Hedgehogs Born in the Lobby of a Five-Star Edinburgh Hotel
---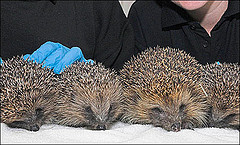 A few years ago,
Washingtonians fell in love with a nesting duck
at the luxurious
Ritz-Carlton Georgetown
, dutifully watched over by the hotel concierge, prompting the chef to remove duck from his award-winning restaurant menu.
Across the pond
, guests of Edinburgh's five-star
Prestonfield Hotel
were delighted to discover that a hedgehog gave birth to three hoglets behind a plush curtain in the hotel lobby.
BBC News reports
that the hedgehogs will now be released into the wild after seven weeks of care by the Scottish SPCA. James Thomson, Prestonfield Hotel's owner, is quoted as saying, "We are just glad that they checked in for a little five-star luxury along the way."
---