Ayurvedic Experience at Amangalla, Galle, Sri Lanka
---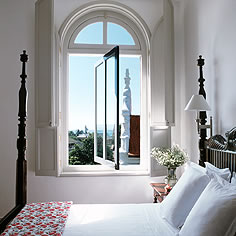 Start off the year on the right note with the ultimate dose of good health at Amanresort's gorgeous architectural masterpiece:
Amangalla
. Located within the fortified walls of the UNESCO World Heritage site Galle Fort, Amangalla reflects the elegant ambiance of a bygone era. From the lavish resort, step out into a historical treasure, the ancient crossroads of Persians, Arabs, Chinese, Malays, South Indians, Portuguese, Dutch and English. Amangalla has designed the Ayurvedic experience package, for guests to revitalize and balance their energies, setting the course for a healthier future. Ayurveda is an ancient system of health care originated by the sages of India who learned how to prevent diseases and maintain good health. Sri Lanka developed its own Ayurvedic system over 3,000 years ago, and you can get a taste of this at
Amangalla
. The three-day
Ayurvedic Taster
, priced at $1,350 for two, includes a personalized Ayurvedic diet with daily herbal teas, daily Yoga and meditation class, daily Ayurvedic or spa treatment, Ayurvedic tonic delivered to the guest bedroom, a prepared herbal bath, use of The Baths' hydrotherapy pools, steam room and sauna, and open discussion over afternoon tea with Ayurvedic physician. You can also choose the seven-day
Ayurvedic Relaxer
($2,835 double occupancy), or the 14-day
Ayurvedic Detox
($5,355 double occupancy).
---