Artesian at the Langham Hotel: Hot New Bars in London
---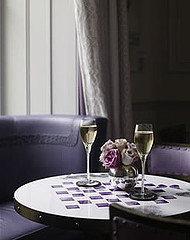 Taking a cue from
Fodor's Hot List
, we're focusing our gaze across the pond at the
London Langham Hotel's
glamorous new bar,
Artesian
. Designed by David Collins Studio, this chic new hot spot is decked out in embossed leather seats, a lilac marble bar, timber chandeliers, and ornate, mirrored wall paneling. The cocktail menu is simply luxurious, with lots of delicious drinks specializing in rum. (Try the
Hot Buttered Rum
, a relaxing, buttery drink served with Myer's rum, clove-infused apricot brandy, hot water, cloves, and a spoonful of homemade cream.) Here, the creative mixologists craft timeless classics and Artesian signature cocktails, like the
Good Night Chihuahua
, a twist in the seminal Tommy's Margarita recipe, using Sotol Reposado, homemade chamomile syrup and fresh lime juice, served on the rocks. But as
Fodor's points out
, "if tongues are wagging over Artesian, it's not because of the décor or the celebrity guests, it's because of the "energized" ice cubes: they're denser and colder than most, so cocktails stay potent longer." Talk about indulgence.
---