Anantara Resort Golden Triangle, Thailand: King's Cup Elephant Polo, Elephant Trekking and the Elephant Camp
---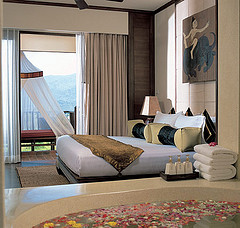 Overlooking the rugged hills of Laos and Burma and the winding Mekong River in Thailand's mystical Golden Triangle region,
Anantara Resort
is a luxury nature retreat set on 160 acres of tropical jungle. The resort is just as evocative as its surroundings. From
your private balcony with a built-in sofa, you can check out the views of three different countries!
The 58 guest rooms feature traditional Thai art, hardwood floors, and open bathrooms with oversized tubs for two. Go elephant trekking, learn exotic Thai flavors at the resort's own cooking school, take a guided excursion to Burma's colorful markets. The resort offers myriad conservation activities, and the luxurious facilities include a hilltop infinity pool overlooking the Mekong valley, pampering Anantara Spa, and signature restaurants.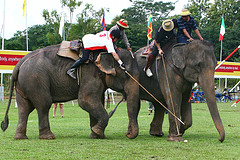 As we've been eagerly anticipating for months, Anantara Resort Golden Triangle recently hosted the 7th King's Cup Elephant Polo Tournament on a new polo pitch set just feet from the Ruak River dividing Thailand from Burma. From March 31-April 6, 2008, 12 elite teams battled it out. (There was even an all-female London-Irish team!) After some exciting matches, the Mercedes team clinched the title in a close finish against Chivas Regal of Scotland. But the real winners? The elephants themselves, as the tournaments raise money for the Thai Elephant Conservation Center. Over $200,000 has been raised to help provide protection for the threatened Thai elephant. In fact, Anantara Resort is praised for its on-site Elephant Camp where some 27 elephants are in residence. Funds have been used for a custom-built elephant ambulance and a (powder) milk bank for baby elephants.
---