An Oktoberfest Hotel in Munich: Hotel Vier Jahreszeiten Kempinski
---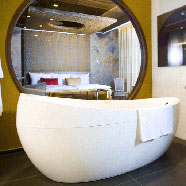 "In München steht ein Hofbräuhaus: Eins, zwei, g'suffa…" Every now and again, I can't get this song out of my head. I can't predict when the words come flooding in, usually when I take a drink of a fine German lager. My taste buds trigger an emotion that is pure happiness. Oktoberfest! Oh how I miss thee!
This year, I'm going back, and I hope you'll join me. Munich, the beautiful Bavarian city in southern Germany, has more than just the annual beer drinking festival, but there isn't honestly a better time to visit. The season is just changing, with the weather pleasant and calm, and the warmth of the German people never more evident. This is what makes Oktoberfest so enchanting!
I've stayed at many places in Germany, from home stays to hostels to ski chalets, but nothing compares to the Hotel Vier Jahreszeiten Kempinski. Can't pronounce it? Don't worry, I can't either. But you won't need to, because the world class staff at the Hotel Vier will do everything for you, including the speaking!
I do recommend doing one thing on your own though, and that's drinking a liter of Hofbräu, and singing that famous old song… Prost!
---