An Interview with the GM: Mr. Frank Beck of The St. Regis Bali Resort
---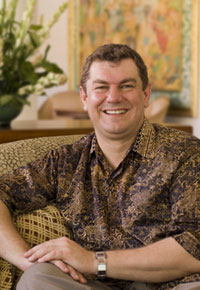 Mr. Frank Beck
is
General Manager
of
The St. Regis Bali Resort
– the first St. Regis resort to open in Asia Pacific. He was previously General Manager of The Laguna Resort & Spa, Nusa Dua, Bali, a Luxury Collection property. Mr. Beck recently took some time to sit down and answer a few of our questions.
Five Star Alliance: How did you come to be General Manager of the resort?
Frank Beck: I had been working for the Starwood Hotels & Resorts group for the past 20 years having held senior management positions in Europe, the Middle East and Asia, including eight years in Indonesia. When this opportunity to be General Manager arose with The St. Regis Bali Resort, considering my wealth of experience in luxury hotels, the group approached me to fill this position. Being part of a team that creates and opens a new resort is a prospect which I feel is one I am really excited about.
Five Star Alliance: Tell us what you feel is the most distinctive or unique feature of your hotel? What best describes the personality of the resort?
Frank Beck: We believe that The St. Regis Bali Resort is unique and different from other competing resorts starting with its location as it is located right at the beach with the Strand Villas, Strand Residences as well as Cloud Nine Honeymoon villa nestled right in front with a wooden gate leading right into the clear and clean waters of the beach. The St. Regis Bali Resort sits on 8.8 hectares of flat lands with 123 villas and suites thereby drawing a very spacious feel which sits well with the latest concept of modern luxury. All furniture in the villas and suites are individually produced and feature rich imported fabrics and materials and this provides a rich residential feel. These key distinctive features together with the signature St. Regis Butler Service, we believe will make the resort stand out and attract the market.
In one word, the personality of hotel is one of passion. This passion I speak of is not only evident in the hardware with its intricate design and detail in architecture both in interiors and landscape but also in each and every staff in providing the level of service the St. Regis brand is recognized for.
Five Star Alliance: What is the best thing about the resort's location? What is your favourite thing to do in the surrounding area?
Frank Beck: The resort is located right at the beachfront which provides not only a magnificent panoramic view of the majestic Indian Ocean from the grand lobby and many of the suites and villas but also the location affords all guests quick proximity and easy access to the beach. And of course, The Strand Villas and Residences with our Cloud Nine villas have direct access to the beach through the stunningly landscaped gardens. Besides lounging in the private pools of the villas, at the beach or in the 3668 square-meter lagoon as well as taking a culinary journey at the restaurants in The St. Regis Bali Resort, guests can also walk around Nusa Dua which is very green with a variety of plants and trees and therefore called "Garden of Bali" and with walking and jogging paths. Guests can also do some shopping and dining at Bali Collection which features some retail shops including a department store and a few restaurants.
Five Star Alliance: Who are your customers and where do they come from?
Frank Beck: The St. Regis Bali Resort targets individuals who desire the luxury of space. These individuals are educated, affluent professionals and industry leaders with an entrepreneurial spirit who travel for business and pleasure. They are equally likely to be a senior executive or an owner / partner in a business. They are contemporary epicureans, dedicated to sensual pleasure, and enjoy the true "art of living." Our main geographical markets are Indonesia, Singapore, Hong Kong, Japan, Korea, Russia, America, United Kingdom and Germany.
Five Star Alliance: If you were considering staying at the hotel as a guest, what would you want to know about the hotel before checking in?
Frank Beck: It is dependent on my objective of the stay but generally I would want to know the location of the hotel, details of the rooms and the facilities it provides. It is important that the rooms are luxuriously comfortable not only for me but also for my wife and kids and I am a food and wine lover and as such, would be very particular about the hotel offering a sumptuous fare and premium wine.
Five Star Alliance: What is the hardest part about being General Manager? If you could change one thing about the resort, what would that be?
Frank Beck: I believe being a General Manager is like being an entrepreneur and in being the latter, one has to have good business acumen and also emotional quotient (EQ) in dealing with employees and human resource issues. I do not think one can cite the hardest part of being a General Manager but instead I can safely say from time to time a challenge may crop up and it is very rewarding to overcome this challenge. As the resort is brand new, I cannot see anything I would like to change for now.
Five Star Alliance: Anything else you would like our readers to know about your property?
Frank Beck: There is nothing like going through an experience and being able to have all senses in one touched. I would therefore like to extend a warm welcome to all to experience The St. Regis Bali Resort.
---