An Interview with the GM: Egerton House Hotel's Sandra Anido
---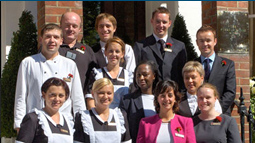 Five Star Alliance:
How did you come to be General Manager of the
Egerton House Hotel London
?
Sandra Anido: I have worked for the Egerton in London for many years. Over two years ago, I and followed in the footsteps of our previous General Manager and took over the management position.
Five Star Alliance: Tell us what you feel is the most distinctive or unique feature of your hotel? What best describes the personality of the hotel?
Sandra Anido: The Hotel is Unique in it's sense of style, décor, comfort and approach to guests.
Being greeted and welcomed back by a friendly team each and every stay, a smiling face as you walk through the door, the team always and ever trying to have your room ready upon your arrival, 24 hours Reception Team available for any assistance with queries or any concierge requests. A Butler to unpack your luggage on arrival, a personal shopper to assist you and to help you buy the best items. A butler to pour your tea or serve a scrumptious Afternoon Tea. The Housekeeping team to press your shirt before each important meeting.
Not one room is the same; furniture was hand picked, fabrics hand woven. Comfortable armchairs and sofa's, antiques, stunning fabrics and wall papers, soft furnishings, full length mirrors, marble bathrooms, power showers and the best in luxury amenities.
Five Star Alliance: Can you share the names of any famous guests who have stayed in the hotel, or perhaps regulars that return on a periodic basis?
Sandra Anido: Our Hotel has been visited by certain members of European Royal Families. Unfortunately we can not disclose any further information as Privacy is afforded to all our guests including the famous!
Five Star Alliance: Who are your customers and where do they come from?
Sandra Anido: Our guests are mostly regular guests who have enjoyed staying at the Egerton for years. A lot of clientele are from the States and the UK.
Five Star Alliance: What is the best thing about the hotel's location? What is your favorite thing to do in the surrounding area?
Sandra Anido: We are literally just a 5 minute stroll away from Harrods & Harvey Nichols. My favourite pass time is of course shopping at Harrods!
Knightsbridge is a Destination; The Egerton House Hotel is located in the heart of Knightsbridge, one of London's most exclusive addresses. Brompton Cross a minute's walk away with some of London's most wonderful and exclusive boutiques, galleries and shops and restaurants.
Knightsbridge also houses London's most famous landmarks such as The Victoria & Albert Museum and the National History Museum.
Five Star Alliance: Which do you consider to be the best rooms in the house? Not just the suites, but also any particular standard rooms that have great views or unusual advantages? If you were checking into a standard room at the hotel, which one would you request?
Sandra Anido: The Egerton House Hotel really offers "a room with a view". Rooms at the front of the hotel offer views over Egerton Gardens, glimpses of the stunning architecture of the Brompton Oratory and the Victoria & Albert Museum. Rooms located on the side of the hotel are overlooking Egerton Garden Mews, the old Stables, offering a feel of the old traditional London, a century ago. The beautifully maintained private gardens at the back of the hotel is an oasis of tranquillity and all rooms on the back of the hotel overlook these.
It is very hard to pick a favorite, as I truly love them all.
Five Star Alliance: Can you mention any interesting miscellaneous trivia regarding the hotel? Perhaps a bit of history?
Sandra Anido: When Egerton House opened on a residential Knightsbridge street in 1990, it spearheaded London's "boutique hotel" explosion and was one of the first Hotels in London to open as a Luxury Townhouse Hotel.
Five Star Alliance: If you were considering staying at the hotel as a guest, what would you want to know about the hotel before checking in?
Sandra Anido: The Hotel does not, unfortunately, have any spa facilities in-house, but we offer day passes at a Platinum Health club nearby.
Five Star Alliance: What is the hardest part about being General Manager? If you could change one thing about the hotel, what would that be?
Sandra Anido: I have worked in the hotel for so many years and it has grown to be my second home and we have a fantastic Team, I would not want to change anything for the world. We experience challenges from time to time but this is all part of the job.
Five Star Alliance: Other than your own, can you share your choices of two or three of what you consider to be the greatest hotels in the world? And why you think they are special?
Sandra Anido: One of London's Top Hotels is Claridge's with its history and stunning Art Deco surroundings.
Bushman's Kloof, also part of the Red Carnation Hotel Collection is located in the heart of an African nature reserve. A stunning and fabulous small intimate Hotel.
Five Star Alliance: Anything else you would like our readers to know about your property?
Sandra Anido: The hotel holds an extravanganza of stunning art - original prints from Henry de Toulouse-Lautrec. Original old prints from the Illustrated London News, engravings and lithographs of Picasso, Matisse and Braque alongside masterful paintings such as the Parrots by Kim Brooks. Our small intimidate Bar is packed with caricatures by JAK and Sems.
The Egerton Bar is a small intimate discrete little hideaway. Packed with caricatures by JAK and Sems, its the perfect place to have a quiet drink, light snack or entertain friends. Antonio is one of London's most beloved bartenders and Antonio's Martinis are known to be the best in London!
About Sandra Anido: After graduating from The Hague Hotel School, I worked for several boutique properties in the Benelux countries before moving to London which I now consider home. London is a marvelous city and has much to offer and Knightsbridge is the city's most exclusive address. Its an absolute joy for me to share my knowledge of London with our guests and to make sure The Egerton House becomes their home away from home and a truly great experience.
---