All Island Buy-out at Peter Island Resort, British Virgin Islands
---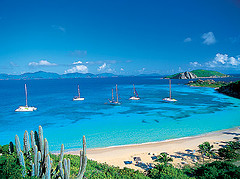 For the first time ever,
Peter Island
-- the renowned Caribbean resort that frequently tops the lists of "world's best hotels"-- can be rented in its entirety. How's that for exclusivity? The fully-staffed private island resort can be yours for just you and 130 of your closest friends or business colleagues. Think weddings, family reunions, company retreats. The largest private island in the BVI,
Peter Island
boasts five picture-perfect beaches, a seaside spa, 52 guest rooms, three villas, and
Tradewinds
restaurant, which was recently awarded the
Wine Spectator
award of excellence. (
Oh, and did we mention the resort's 41' sailing yacht Silmaril?
) 200 members of staff (a 3 to 1 ratio of staff to guests) are on hand to assist with all requests. Rates for the full island buy-out (a five-night stay) begin at $259,600 for travel now through November 16, 2007. Included: all breakfasts, lunches and dinners daily, round trip airport transfers, unlimited ferry service to and from Tortola and unlimited use of the resort's non-motorized watersports equipment, mountain bikes, tennis courts, windsurfing, snorkeling and fitness center.
---