A Stylish St. Patrick's Day at Ashford Castle
---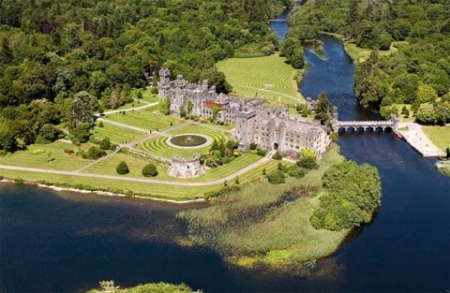 Head to the Emerald Isle for St. Patrick's Day and experience the ultimate Irish celebration. Spend the night in your very own castle (
the 800-year-old Ashford Castle
offers super luxurious digs), try your hand at falconry and other leisurely pursuits, partake in a soda bread cooking class, enjoy a traditional dinner in an Irish family's home, and visit the 5th century church of St. Patrick himself. Here's what's in store when you book either a two- or three-night package at
Ashford Castle
:
DAY 1 (March 17)

7pm - Depart castle for short stroll to Cullen's at the Cottage, accompanied by Benny the Piper, where guests join the "Irish Céilí" (traditional Irish party) with an Irish-themed menu, music and dance.

DAY 2 (March 18)

Breakfast at leisure in the George V dining room

10:45am: Boat trip to the Island of Inchagoill and visit to the 5th-century Church of St. Patrick and the most precious stone of Lugnad. The story of St. Patrick will be explained on board by Patrick Luskin, historian and ship captain.

7pm: Dinner, using the finest locally sourced ingredients, in the hotel's Connaught Room and accompanied by Ashford Castle's in-house harpist.

9:30pm: Gift of the Gab: Irish storytelling - with all the humor thrown in.

DAY 3 (March 19)

Enjoy a leisurely breakfast, followed by a fond farewell.

-or-

Breakfast in the George V dining room

10:30am: Irish soda bread cooking lesson with Ashford Castle's Executive Chef Stefan Matz

11:30am: "The Art of Guinness Pouring" class with Ashford Castle's barman

1:00pm: St. Patrick's Day games available on the estate, including treasure hunt and a "Long Puck" (Puc fada) hurling competition

7:00pm: Traditional dinner in an Irish family's home

10:30pm: Viewing of The Quiet Man, the 1952 romance starring John Wayne and Maureen O'Hara that was shot entirely on location at Ashford Castle and its environs.
Based on double occupancy, the two-night package is priced from €385 (approximately US$532) per person, and the three-night package is priced from €485 (approximately US$670) per person.
---