A Room with a View in France: Cristal Bubble's Transparent Blow-Up Rooms
---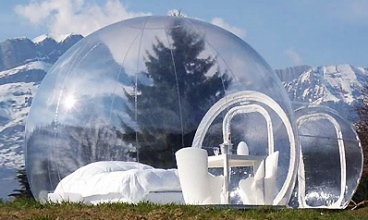 We've reported on our share of wild & wacky hotels-- from
floating pyramids
to
underground hideaways
-- but this could be tops.
Urban Daddy recently uncovered
a new way to enjoy the French countryside:
You've done the French villa thing—the wines, the burgundy sunsets, the saucy locals—and you're not complaining. But lately, you've been yearning for something a little more futuristic. More transparent. More…inflatable. Introducing CristalBubble, bringing palatial plastic bubbles to the south of France, now taking reservations. Yes, a bubble. Basically, you'll be getting a blow-up, see-through villa situated in the French landscape of your choosing―like if Bubble Boy had a passport and a taste for only the finest Côtes du Rhône. It'll be inflated to 13 feet across and decked out with a king-size bed, a spaceship-style entrance tube and a fan to keep the inside well-ventilated. There's even an adjoining bubble if you decide you need servant's quarters. (You couldn't just leave Jacques at home.)
Though the hilly lanscape around Mont Blanc sounds like a pretty setting, it's even possible to set up your bubble in a tree. Urban Daddy's personal recommendation? "A leisurely stay at Bagheera Naturist, a clothing-optional beach in Corsica… Just remember the view goes both ways."
---