A Hotel Gem in the Heart of Historic Paris: Le Pavillon de la Reine
---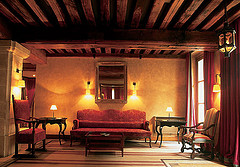 Jean Paul Gaultier had the right idea. He camped out in the Victor Hugo Suite at Le Pavillon de la Reine for a year when his house was renovated. Indeed, you couldn't ask for a better residence in the City of Light. The historic boutique hotel is brimming with 17th century details: elegant tapestries, beautiful antiques, and enormous wood beams grace the ceilings of the guest rooms.
In a city steeped in history, the Marais district stands out for its fashionable pre-Revolution townhouses, tiny alleys lined with exquisite boutiques and restaurants, and lively nightlife. And within this marvelous neighborhood, the Pavillon de la Reine has the remarkable location directly on the Place des Vosges, the oldest public square of its kind in Paris. Inaugurated as place Royale in 1612, Henry IV built the square to celebrate the wedding between his son, Louis XIII, and Ann of Austria. The area was thus transformed into the most fashionable and luxurious area of Paris. The Place des Vosges is comprised of 36 symmetrical houses with pink brick and slate roofs, surrounding a large and charming square.
The Pavillon de la Reine is an oasis within this bustling activity-- tucked away in a flowering courtyard, just minutes from the Bastille Opera House and the Picasso Museum. Each of the 56 rooms and suites-- from the modern duplex suite to the historical deluxe rooms-- is uniquely decorated and full of character. Historical details are balanced by a full array of modern amenities (like flat screen TVs), thus creating a unique fusion of modern and ancient styles. The hotel is privately owned by a French family, and the ambience takes on the feel of an intimate, private residence: pour yourself a drink at the honesty bar, eat breakfast in the atmospheric vaulted cellar, and enjoy a wood fire burning in the large fireplace in the winter. Of course this pied-a-terre offers all the comforts of a grand hotel, complimented by thoughtful, discreet service. And the hotel's guests gush their praises: La Pavillon de la Reine was awarded the 2005 TripAdvisor Travelers' Choice award, a real testament to the quality and sophistication of the hotel.
---