$400 Credit at Cambridge Beaches: Celebrate Bermuda's 400th Birthday
---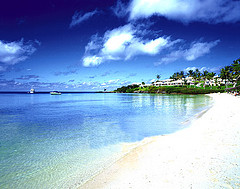 It's a big birthday year for Bermuda, celebrating its 400th anniversary with some glorious promotions at its luxury hotels.
The New York Times In Transit blog gives us
the history: "In 1609, a ship from Plymouth, England, bound for the Jamestown colony in Virginia was damaged in a storm but found refuge on an Atlantic island with pink beaches. The English had discovered Bermuda." One such money-saving package can be found at world-famous
Cambridge Beaches Resort and Spa
, which is doling out a a $400 credit to guests who stay four nights or longer through August 21. You must book the "Compliments of Bermuda 400th Anniversary Summer Offer" by August 15th.
---