20th Anniversary of the Fall of the Berlin Wall: Where to Stay in the European Capital of Cool
---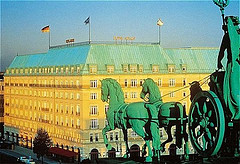 Arguably the most moving historic moment in the 20th century, the fall of the Berlin Wall-- 20 years ago this year-- was an unforgettable triumph. It's no surprise that Germany has scheduled a slew of exciting events to commemorate this momentous occasion. The
country's cool capital
-- a haven of creative design and hip cultural delights-- is throwing a year-long party. Here's the run-down: We may have missed the Berlin Film Festival in February, but May will see the launch of an open-air exhibit on Alexanderplatz (formerly in East Berlin) about the fall of East Germany's communist government. The three-day "Festival of Freedom" will take place at the Brandenburg Gate in Berlin from November 7 to 9,
"culminating in a multimedia recreation of the wall coming down."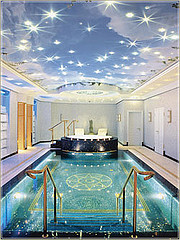 Where to stay in the German capital? Here's a run-down of some of our favorites:
Hotel de Rome: Housed in a historic bank building (with the bank vault converted into a pool) and boasting panoramic views of the city's attractions, this hotel is a member of the prestigious Rocco Forte Collection. Enough said.
Hotel Adlon Kempinski: A fixture on the Conde Nast Traveler Gold List, this illustrious hotel is actually offering a special package to celebrate the 20th anniversary of the Berlin Wall's demise, which includes a guided city tour of Berlin's historic sites.
Kempinski Hotel Bristol: The first five-star hotel to be rebuilt after the war and a symbol of Berlin.
Ritz-Carlton Berlin: The posh hotel's La Prairie Spa pool is pictured at right. Bathrooms in the guestrooms are just as sumptuous and spa-like.
Radisson SAS: Stocked with 2,500 exotic fish, the enormous lobby AquaDom is the world's largest cylindrical aquarium.
Hotel Concorde: The sleek hotel is all about design with stylish minimalist interiors with lots of contemporary art.
---