The World's Best

search_hotel_count

Luxury Historical Hotels in Albany, NY
Lake Placid, NY, United States

During the Great Camp era, the Northeast's most prominent families gathered their finest belongings and set...
Lake Placid, NY, United States

Located just 30 minutes from I-87, in the majestic Adirondack Mountains of Upstate New York and the Olympic...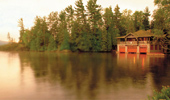 Saranac Lake, NY, United States

The Point is a world apart. An all-inclusive resort property on the edge of a shining mountain lake. A Great...