Your Luxury Summer Travel Guide: Incredible Hotel Pools All Over the World
---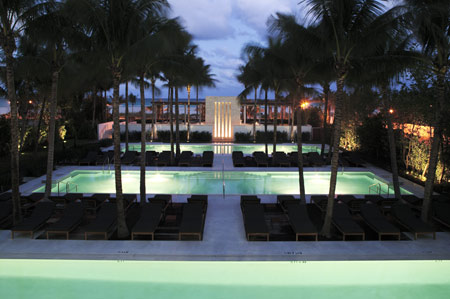 Swimming, fishing, hiking, sun bathing, and kayaking are just a few of the various activities to partake in during the incoming summer months. We've combine luxury hotels with exciting activities to give you the ultimate summer luxury travel guide perfect for folks looking for an adventure, a weekend away, or just an opportunity to take advantage of the beautiful weather! Check in with us often for a few ideas on where the summer should take you!
Memorial Day Weekend starts tomorrow, and with that comes the opening and beginning of pool season! Certain luxury hotels have absolutely stunning pools perfect for catching some rays and relaxation, and a few of our favorites include the Setai in Miami Beach, the Bellagio in Las Vegas, and the Marina Bay Sands Singapore. The Setai is an intimate oceanfront resort in the heart of South Beach, Florida, and it has not 1, not 2, but 3 beautiful pools each set at a different temperature to accommodate the wide range of guests' needs. The Bellagio in Las Vegas has 5 beautiful pools with massages available along the poolside, a pool bar, and beautiful statues and flowers surrounding the area. The Marina Bay Sands Singapore infinity pool is located in the Sands SkyPark, and it offers simply stunning views of the city that's absolutely unparalleled. Be sure to check out these incredible pool options for a phenomenal and relaxing holiday!
Need more? Check out our top luxury hotel pool album on Facebook and board on Pinterest for even more ideas on where to make a splash next!
Image of the Setai
---