WWWD: What Would W Do? Host a Turkey, That's What.
---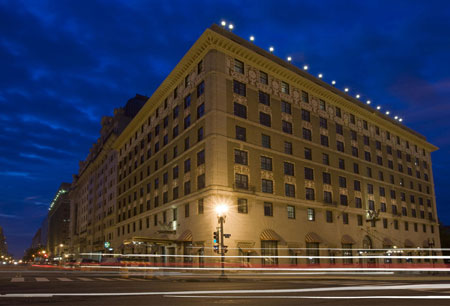 While we're all going to be busy gobbling up our food, there's one gobble that's escaping the avian terror that sweeps our nation this holiday season. The aptly named Thanksgiving is not just a day for giving thanks, it's a day for giving forgiving. And every year, the President of the United States, and in this case, his two daughters Sasha and Malia, give a pardon to one very lucky turkey. Though he hasn't run afowl of the law, the bald-headed birdy is certainly happy to be spared the feasting.
Instead of gracing our dinner tables, the pardoned turkey will be staying the night in the famed W Hotel Washington DC and getting the five-star treatment before the official ceremony. And his thankfully vegetarian thanksgiving feast comes in the form of a Munchie Box: cranberries, soy, and corn comprise the free room service. The room even gets an extra bedding of sawdust to spend the night in comfort regardless of where he chooses to bed down. I think we can all agree that's the kind of special guest worthy of exclusive service. After pardoning, the nation's feathered friend will live out his days in peace on a farm in Mount Vernon, VA. So when you're staring down at your roasted feast, take a moment to think of the one bird who is flying free (as well as a turkey can fly, at least) and meeting the president this weekend.  Not to mention a stay at the W Washington DC!
---